QCan I fit MK1 doors with sliding windows to my MK3, MK4 or MK5 car?
ANo, it's impossible. You can convert your MK3, MK4 or MK5 doors to Streetfighter doors with Steel or Aluminium skins.
QCan I convert my MK1 doors or Van/Pickup doors to wind up windows?
ANo, the only option is to find Australian spec doors which had wind up windows as standard.
QWill Mini Saloon doors fit my Mini Clubman?
AYes, the doors are exactly the same.
QWill Inoccenti doors fit my UK spec car?
AYes, no problem (if you can find them!).
QWhere can I get a 1-piece Van back door?
ATry Mini Spares - http://www.minispares.com/
QDoes the Mini Door Co supply painted doors?
ANo, we have no facilities for painting
QIf I bring my car to you, can I leave it with you while you repair the doors, paint them and fit them?
ANo, we have no facilities to do this.
QAre my doors fit for exchange?
A Obviously when we take a door in exchange, we expect to be able to repair it and then sell it.
Mk1 and Mk2 doors (external hinges) - There is no problem, we can repair them no matter what state they are in. Please note there is no exchange on Mk1 and Mk2 doors.
Mk3 and Mk4 doors - Generally speaking we can repair most doors, age is not a factor, there were good years and bad years and some of the worst doors are the latest type with side impact protection. The state of the outer skin is not important as this will be replaced, nor are cracks in the upper window frame, these can be rewelded.
The main thing to look for is the inside edge of the bottom of the door where it touches the rubber seal on the door frame, ideally this should be sound with no rust or holes. (See diagram below).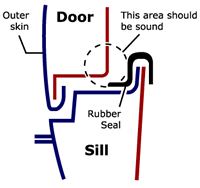 If you are unsure if your doors are fit for exchange, call Mick on 07787 376 977